With the advent of films like Terminator 2, Stargate, and Interview with the Vamipre, and music videos such as Michael Jackson's "Black or White" video, a morphing craze swept Hollywood. Everyone just had to have some sort of image transformation in their project, no matter how small or insignificant. But how is it all done? And more importantly, what is it?
Morphing is a technique used to transfer from one image to another. However, before you run out and try it on your own, we should mention there is quite a bit more to it than that. Morphing involves taking two elements, from which you want to change from one to the other. The idea is to make it appear as if one item is physically changing into the other. The animators select points which are simalar on the two elements. For example eyes, ears, hair, and other such features work well for faces. When moving from two objects that are very similar, a car to a car, or a person to a person, it's easy to find points that can shift well. But on other objects, you need to stretch a little. Shadows should always be matched. Open spaces always can be altered into other open spaces.
An easier application of morphing involves working with two 3D objects. In the computer the morph program can create intermediate models for the change, so that it looks much more like the first model is moving and reforming into the second. A good example is the mask worn by the aliens in Stargate. When activated by the wearer, the masks would pull back to reveal the face of the person. The animators make it look like the masks were pulling away by creating a model of the mask and then basically morphing it into a small pack located on the wearer's back. This provided a very good illusion.
The first major application of morphing technology was 1991's Terminator 2: Judgement Day. Industrial Light and Magic had already suceeded in modeling and animating a metallic creature in the shape of actor Robert Patrick, but making the transitions from the model to the actor was another problem. Morphing allowed the team to work from the model, slowing blending in the features of the actor, providing a smooth transformation as the android assumed his new shape. Since this intial offering, several science fiction films have used the morphing idea for shapeshifters of various kinds. Star Trek has been an especially enthusiastic user of morphing, tarting with the creature in Star Trek VI: The Undiscovered Country, and now with the shape-changing Odo and his entire race on the syndicated television show Star Trek: Deep Space Nine.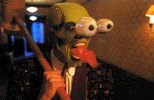 [Image courtesy of the VFXHQ]

Another good example of a morph from an actor to a 3D computer model was evident in The Mask. In the movie the premise was that a magical mask allowed the wearer to manipulate his/her body into all kinds of contortions, mostly resembling cartoon animation. ILM created 3D models and animated them, then used morphing programs to ease the transition from Jim Carrey to the model, and back.

Morph programs are also available to anybody. There are several different types available, and there are many sites on the web which talk more about this technology. See the related links below for some good pages.

Morphing is just one of the latest crazes in the movies and TV. Music videos love to make extensive use of this tool. Michael Jackson's "Black or White" video was one of the first, with a very interesting morph sequence from person to person. However, you can always get too much of a good thing, and many of the morphs are not much more than a gratuitous use of the technology. Todd Vaziri has written a good page, 'Why Morph?', describing the basics of morphing, and what should be done, and what shouldn't.

Morphing has become quite a big thing in Hollywood, but along with the obvious uses, it's now evolving into much more of a tool than a gimmick. Useful applications have been utilized in Dragonheart, Twister, and numerous other movies. Much like other programs it will continue to be developed and expanded for other purposes. With new ideas coming up everyday, morphing will still be a useful and interesting item to manipulate humans and other creatures alike for a long time.
---
Computer Effects: Creatures, Terminator 2
Stargate
Visual Effects HQ: Interview with the Vampire
Visual Effects HQ: ILM
Computer Effects: Creatures, Dragonheart
Visual Effects HQ: Why Morph?
Last Updated August 22, 1996