The Eiffel Tower
The Eiffel Tower is in Paris,France. It is very famous and big.
The directors unveiled a $26.70 10-year plan to upgrade the monument for the 21st Century. When the Eiffel Tower was designed by Gustave Eiffel for the 1889 World's Fair, it was meant to welcome only about 500,000 visitors, said Bros.Today. Even with added elevators, lines can last up to an hour or two during high season.
The elements for the Eiffel Tower were prepared in the Eiffel's factory, in Leuallois Perret on the outskirts of Paris. The Eiffel Tower is 324 meters long, not counting the very, very tippy top. The total weight is 10,100 tons.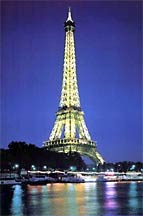 Click here to learn more about the fashion in Paris.
If you want to know more about the history of Paris CLICK HERE!
Here's a way to learn about the delicious food in PARIS
Click here to go BACK to home page :P
Click here to go to the worksited PAGE
Designed by:Elizabeth