Child Labor in China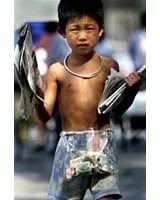 Child labor in China is a problem, child labor has increased, half of the ten million Chinese children that don't go to school are working.


About 85% of the children in Sicituan have dropped out of school, and are working in different areas. Also, kidnapping is occurring frequently in China for the past few years. For example, in 1994, Chinese brick shop workers had kidnapped more then one hundred children to work there. They worked for many hours and for very little pay. In 2000, eighty-four children were kidnapped to work on Christmas lights. The youngest of the eighty-four kidnapped children was age ten. these were some of the things that made child labor a problem in China.


Child labor is still increasing by the rate of children dropping out of school and many more problems that caused the increasing of child labor. Particularly in Hong Kong.